A closed space with a storage area of 1200 m2 and an outdoor space with an arranged storage area of 2000 m2 are available.
Goods can be stored or issued from the warehouse by modern means of transport (lift – fork-lift-truck – manually driven fork-lift truck - … ). The goods can be classified, re-packed, marked and processed in accordance with the wishes and needs of the customers. Upon request of a customer, the goods can be weighed by means of fixed or movable devices for weighing of goods.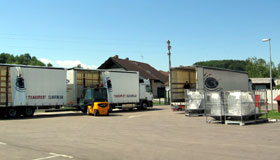 SLOVENIA, AUSTRIA, ITALY, SWITZERLAND, GERMANY, BELGIUM, THE NETHERLANDS, LUXEMBOURG, SPAIN, HUNGARY, THE CZECH REPUBLIC, SLOVAKIA, CROATIA, SERBIA.

Our company operates in the field of car industry, co-operates in just in time deliveries of goods in business processes of companies.

We are engaged in transport, detailed division, distribution of technical goods and consumer goods for our customers.